Due to the Governor's mandate of 30% capacity, we can see 48 children in the Children's Center.
ALL CHILDREN AGES 5+ MUST WEAR A MASK.
Join us for Tons of Fun at the Children's Center!
Paty studied Early Childhood Development at the University of Mary, Washington. Paty has been taking care of children for over eighteen years. She has been with ClubWorx for 11 of those years and the Children's Center Director for nine. Paty manages the care of the children and the caregivers who visit our fitness center. Her goal is to provide a loving and safe environment for the children & parents alike!
ClubWorx offers a "Tween" Center for school aged children ages 6-13 with monitored computer access, video games, board games & puzzles. This is also a great place to do homework or catch up on a good book.
We provide a toddler room with our unique indoor and outdoor playgrounds. This area has many developmental and imaginative play items to keep your children busy and learning.
Infants will be cared for in a separate room for safe keeping. There are plenty of swings & rockers to ease your child to sleep in this quiet and cozy room.
Time Limits & Cost:
Ages 6 weeks & older for 1.5 hour time slots.
$3.00 per visit for the 1st child
$1.00 per visit for each additional child
OR $25.00 per month for unlimited visits
(includes all children in your family)
Childrens' Center
Monday to Friday
8:00am-12:30pm & 5:00pm-8:00pm
Saturday 8:00am-11:00am
Sunday 12:30-3:30pm
If you plan to bring your children to the Children's Center, please note the following:
If you have a single or couple membership where the children are NOT on your membership, you will need to add them as a "Service Member" and create a username and password for each child to reserve time in the Children's Center.
Visit the portal here and click on "Non-Member Portal Access." You will only have to do this once to have the children registered and should supply you with an agreement number.
Please note that each child in your family has to reserve a spot. Go back into the "Member Portal" and click "REGISTER" as a new member. Create a username and password for each child.
Once your child is logged in, click on "CLASSES" and scroll to the date and time that you would like to reserve "CHILD CARE."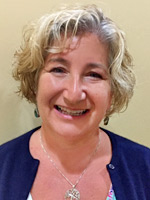 Paty Kelly, Children's Center Director
For more information contact Paty Kelly