On Wednesday I discussed carbohydrates in the diet, why they are needed and how your body uses them. Give this salad a try for a healthy carbohydrate pick-me-up snack or as a side for your next lunch or dinner. Add some more protein for main dish or taco filler! This dish keeps well, so you can make it this weekend and eat it a few times next week. I love the mix of flavors from the lime and cilantro dressing with the beans and avocado, yum!
Lets take a look at the healthy whole food carbohydrate superstars in this dish!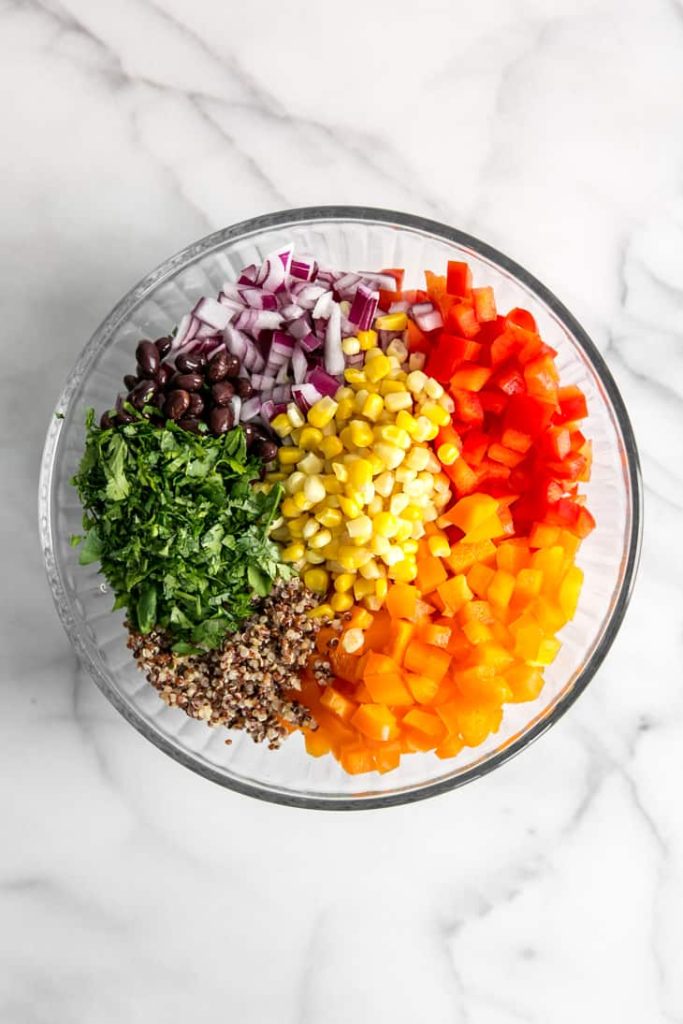 Quinoa (pronounced KEEN-wah)-is a food that has been eaten for thousands of years. It comes from South America and was deemed "the mother of grain" by the Inca. It is an interesting food because it eaten and prepared similar to a whole grain food (like rice or barley), but it is technically not a whole grain as it comes from a plant instead of a grass. The nutrition world considers it a whole grain because it is nutritionally similar to other whole grain foods. The great thing about quinoa is that it cooks quickly and is very versatile. It is also a good source of complete protein, meaning it contains all nine essential amino acids. Quinoa is also naturally gluten free, high in fiber, and has many vitamins and minerals. There are many kinds of quinoa, including white, blue and red varieties. If you haven't tried this awesome grain yet, give it a try!
Black beans-are high in complex carbohydrates in the form of starch and fiber. They also contain a good dose of plant protein and are high in folate.
Corn-Fun fact, corn is actually a cereal grain! It is the seed of a plant in the grass family, native to Central America. It is high in carbs, mostly from starch, but it does contain a small amount of naturally occurring sugar. Corn contains fiber as well. Sweet corn is high in several of the B vitamins as well as potassium.
Bell peppers-contain both fiber and naturally occurring sugar (which is what makes them sweet!). They are also loaded with vitamin C and are good sources of many other vitamins and minerals. Different colored bell peppers will give you different kinds of nutrients, so be sure to include a rainbow of colors for the most health benefits!
Southwest Quinoa Salad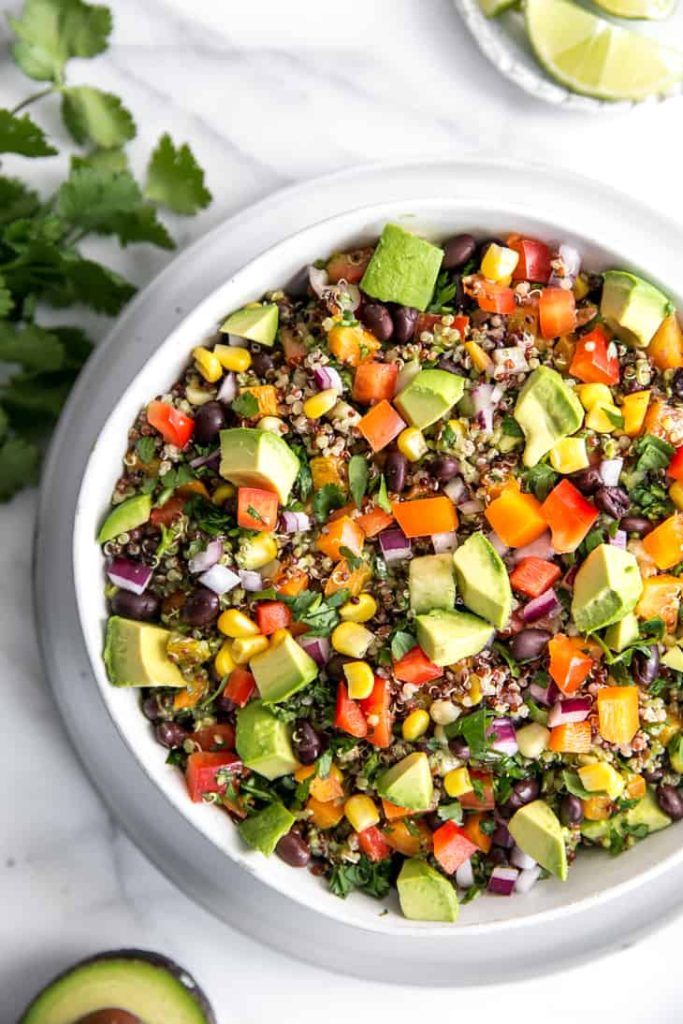 The perfect Southwest Quinoa Salad for any occasion – meal prep, lunch, dinner, cookout sides, you name it. Tossed in a cilantro chili lime dressing for a delicious flavor boost. This recipe is gluten-free, vegan and packed with goodness.
Prep time: 15 minutes                  
Cook time: 15 minutes                  
Yield: 8 servings

INGREDIENTS
 Salad
1 cup uncooked quinoa
2 cups water or vegetable broth
15oz canned low sodium black beans, rinsed and drained
1 cup cooked or canned corn (drain if canned)
1 medium red bell pepper, chopped
1 medium orange bell pepper, chopped
1/2 cup finely diced red onion
1/4 cup freshly chopped cilantro
avocado for topping
Cilantro Chili Lime Dressing
1/2 cup fresh cilantro leaves
1/4 cup extra virgin olive oil or avocado oil
juice of 2 limes
1 garlic clove, minced
1/4 tsp chili powder
1/4 tsp cumin
1/4 tsp onion powder
1/4 tsp salt
INSTRUCTIONS
Cook quinoa: place 1 cup rinsed quinoa with 2 cups water or broth in medium pot; bring to boil then cover and simmer for about 15 minutes, or until water is absorbed. Remove from heat once cooked, fluff with fork and transfer to large bowl to cool.
Meanwhile prepare the veggies: drain black beans, corn, chop bell peppers, dice onion and chop fresh cilantro.
Add veggies to bowl with quinoa and gently toss together
Make the dressing: add all dressing ingredients in medium bowl or blend in small food processor
Combine dressing and salad bowl: Create a well in the center of salad bowl and pour half of dressing into bottom of bowl. Stir gently and then add remaining dressing, tossing again to combine.
Serve salad over bed of salad greens and top with avocado if desired. Enjoy!
Recipe Notes:
This salad would be also great with an additional source of protein like crock pot chicken. This salad is meant to be served cold but can also be gently warmed up.
Instant Pot Quinoa Cooking: Place 1 cup rinsed quinoa in Instant Pot with 1 1/2 cups broth or water. Pressure cook on HIGH for 1 Minute. Natural release pressure for 10 minutes. Unlock lid, stir and done!
Nutrition Information: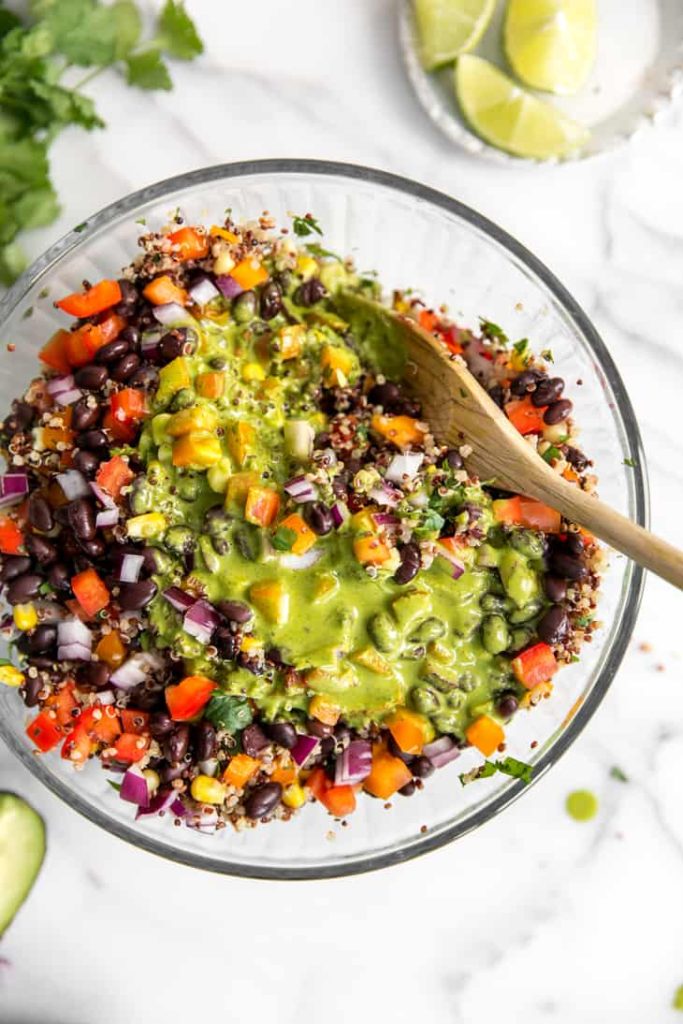 Serving Size: 1/8th of the recipe
Calories: 229
Carbohydrates: 32g
Sugar: 3g (naturally occurring)
Fiber: 5g
Protein: 7g
Fat: 9g
Saturated Fat: 1g
Unsaturated Fat: 6g
Trans Fat: 0g
Cholesterol: 0mg
Sodium: 346mg
Recipe and photos from Fit Mitten Kitchen



Stay healthy!
Lisa Robinson-Mihiar, RDN, LD
ClubWorx Dietitian
Have a question you want Lisa to answer on the blog? Send your questions and ideas to Lisa at lrobinson (at) clubworx.net