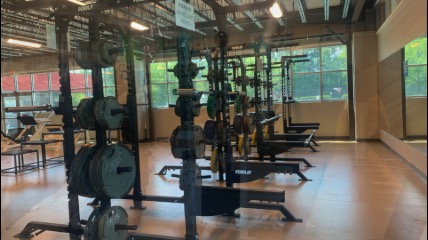 WE PROMISE A SAFE RETURN TO OUR COMMUNITY
We been busy putting additional cleaning and safety protocols into place and planning alternatives classes for you and your family.
We are here for our community. From outdoor fitness classes to summer camps to pools and lifeguard training - we have safe programs for you and your kids.

We have worked tirelessly on a comprehensive reopening strategy. This plan puts our members' and staff's health & safety as top priority. We have taken our already high standard of cleanliness to a higher level.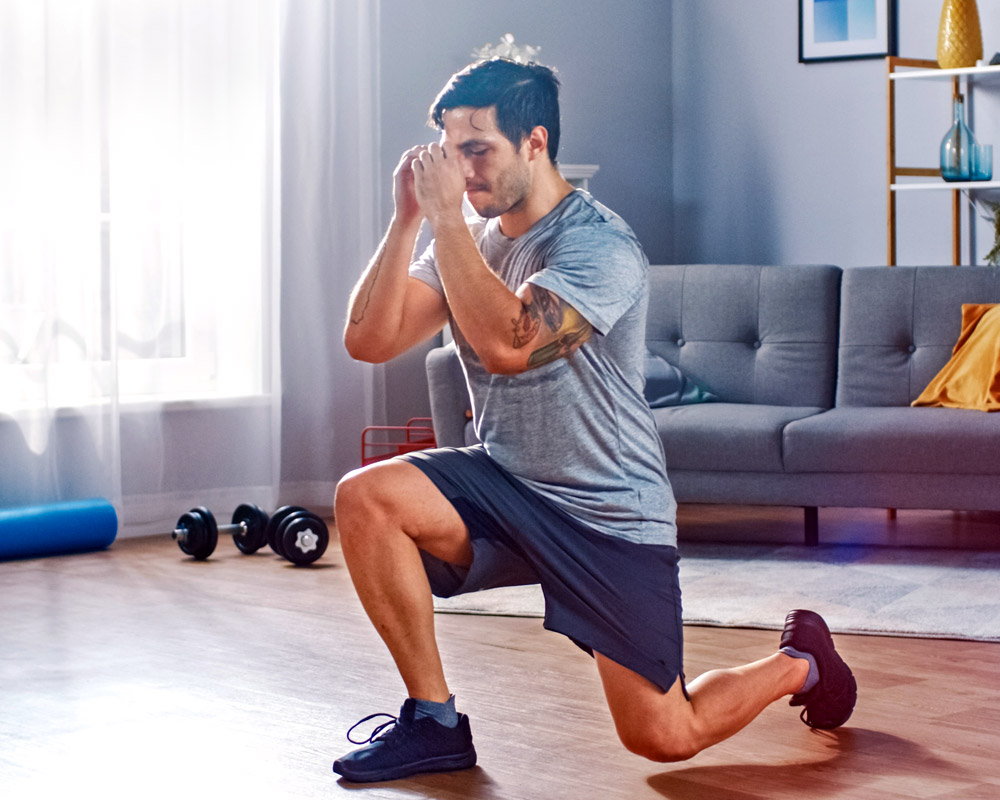 Access to Virtual Classes, plus you will have access to our private Facebook that features inspiration, nutrition tips, classes and more!

MEMBERSHIP INQUIRIES and BILLING
We are here to answer all of your questions as we navigate through our new normal, please reach out if you have a question.
THE CLUBWORX PROMISE
Over the past several weeks, ClubWorx has conferred with sanitation experts and governing guidelines. We have worked tirelessly on a comprehensive reopening strategy. This plan puts our members' and staff's health & safety as top priority. We have taken our already high standard of cleanliness to a higher level.
Sanitizer Stations
Members will be asked to use hand sanitizer when entering the club and frequently throughout their visit. The hand sanitizer solution kills up to 99.9% of germs and includes 67% ethyl alcohol, above and beyond the CDC's guidelines of 60%, with added Aloe vera and essential oils. Hand sanitizer will be available at new touchless stations throughout the club.
Members will be asked to use disinfectant wipes on equipment before and after use in addition to Equinox's cleaning protocols. Our disinfectant wipes, approved by the EPA for use against COVID-19 and proven to kill 99.99% of bacteria, viruses & fungi on equipment while having the safest EPA Toxicity Rating. Disinfectant wipes will be available throughout the club.
Members will be able to clean and disinfect their phones and personal devices in under 30 seconds using new touchless, medical-grade UV-C sanitizers.
Cleaning & Sanitization
In addition to existing continuous cleaning protocols, we will add a rigorous, deep-cleaning and disinfecting process three times during the day and once overnight. Designated areas of the club will be sectioned off during the day to facilitate the deep cleaning. We will be increasing the size of our Maintenance team as well as asking all team members to support these rigorous cleaning protocols.
Medical-grade, EPA-registered disinfectants which are designated effective against the COVID-19 virus with a kill time of less than one minute will be used for all continuous and deep-cleaning processes. We will also be introducing next generation electrostatic handheld and back-pack sprayers, for use by our Maintenance team, that efficiently attack microbes, providing 3x more coverage in the same amount of time than traditional efforts. This equipment will also be used to fully disinfect lockers and Group Fitness equipment between use.
We will be adjusting club operating hours to allow for thorough cleaning and disinfecting overnight.
We will allow 30 minutes between Group fitness classes for disinfecting the studio and all equipment.
We will disinfect member lockers using electrostatic sprayers after each use.
Steam cleaning procedures will be implemented for all merchandise.
Health Checks
Members and our teams will be required to complete a mandatory Health Declaration in the Equinox app before each club visit to confirm they are not experiencing symptoms of COVID-19, nor have they come in contact with someone who is experiencing symptoms.
Members and our teams will have body temperatures taken prior to entering the club via touchless thermometers. Per CDC guidelines, individuals with a body temperature greater than 100.4 degrees will be not be permitted entry into the club.
Members will be asked to alert their club's General Manager if they test positive for COVID-19 within 14 days of their last club visit. We will email notification to all potentially exposed persons if there is a confirmed case of COVID-19 at ClubWorx.
Limited Club Capacity
Members will be asked to book a club visit in advance using the Equinox app. Those who schedule a Personal Training or Pilates session or book a Group Fitness class will automatically have a visit booked for them. Members will be able to schedule three 90-minute appointments in any seven-day period. Additional visits may be booked through the Equinox app on a standby basis, subject to club capacity. For example, if you book visits for Monday, Tuesday and Wednesday, following your visit on Monday, you may book a visit for Thursday, subject to club capacity, which is based on each club's unique size and layout.
Go Contactless
New scanless check-in using the Equinox app will eliminate the need to scan member barcodes at check- in.
New Plexiglass barriers are designed to provide a protective shield between members and the Front Desk.
For convenience and to minimize contact, members will be asked to use their credit card on file in the Equinox app for purchases at The Shop and Juice Bar and Café. Members are asked to update their profile in the Equinox app.
Personal Protective Equipment (PPE)
Our teams will be provided with face masks and gloves, which will be required to be worn in the clubs at all times. Members will be required to wear face coverings all times in the club, except while vigorously training. Members will be provided with a plastic bag to store their face covering until vigorous training is complete. For convenience, members may purchase reusable antimicrobial masks at The Shop.
It is recommended but not required that members wear gloves during their visit.
Temporarily On Pause
During the initial reopening period, the following will be closed: showers, steam rooms, saunas, spa facilities, pools, Kids Club, Coat Check, Basketball courts and team sport areas.
Cardio & Strength Floor Etiquette
To facilitate physical distancing, we will reduce equipment available for use. Select equipment will be unplugged and clearly marked to facilitate physical distancing. 30-minute time limits may be imposed on equipment during peak hours, if necessary.
Members will be asked to practice physical distancing etiquette during Personal Training and Pilates sessions. Trainers and instructors will remain six feet away from clients and all cueing and corrections will be done verbally. Virtual Personal Training and Virtual Pilates will continue to be available.
Give Each Other Room
So members can give each other enough space, physical distancing cues will be marked in the Group Fitness studios, locker rooms, elevators, Member Lounge, The Shop, Juice Bar and Café areas, and on the Strength and Cardio Floors. Physical distancing signs will show which equipment is available for use, and signs will be placed throughout the Strength Floor to remind members to wipe down equipment before and after use and to practice physical distancing.
The Shop, Juice Bar & Cafe
Capacity will be limited, and hours will be modified at The Shop, Juice Bars, and Cafés.
For convenience and to minimize contact, members will be asked to use their credit card on file in the Equinox app for purchases.
There will be dedicated policies for fitting room usage.
Front Desk Etiquette
Temperature checks and hand sanitizer use will be required prior to entering the club. Scanless check-in and plexiglass barriers will allow for safe and seamless entry to the club.
Towels and plastic bags to store face coverings will be provided at the Front Desk.
Locker Room Etiquette
Available lockers will be clearly marked to maintain physical distancing. Restrooms and sinks will also be designated to allow for physical distancing.
Locker room high-touch amenities will be paused with the exception of feminine hygiene products (which will be available upon request from a locker room attendant).
Group Fitness Etiquette
To ensure physical distancing, we will limit capacity for all Group Fitness classes. Advance booking will be required to attend all classes.
Studios will be open 10 minutes before class start times. Members will be asked to use hand sanitizer before entering the studios. Studios will be closed and unavailable for use between classes to ensure the studio and all equipment is disinfected.
All Group Fitness classes, including Cycling, will be designed to facilitate distance between members. Our team will set up the studio beforehand with equipment. If a member requires other equipment, a team member will be available to assist. Only team members will be permitted in the equipment area.
No hands-on adjustments, typical in Yoga, will occur during group fitness classes.
Have a question about our memberships?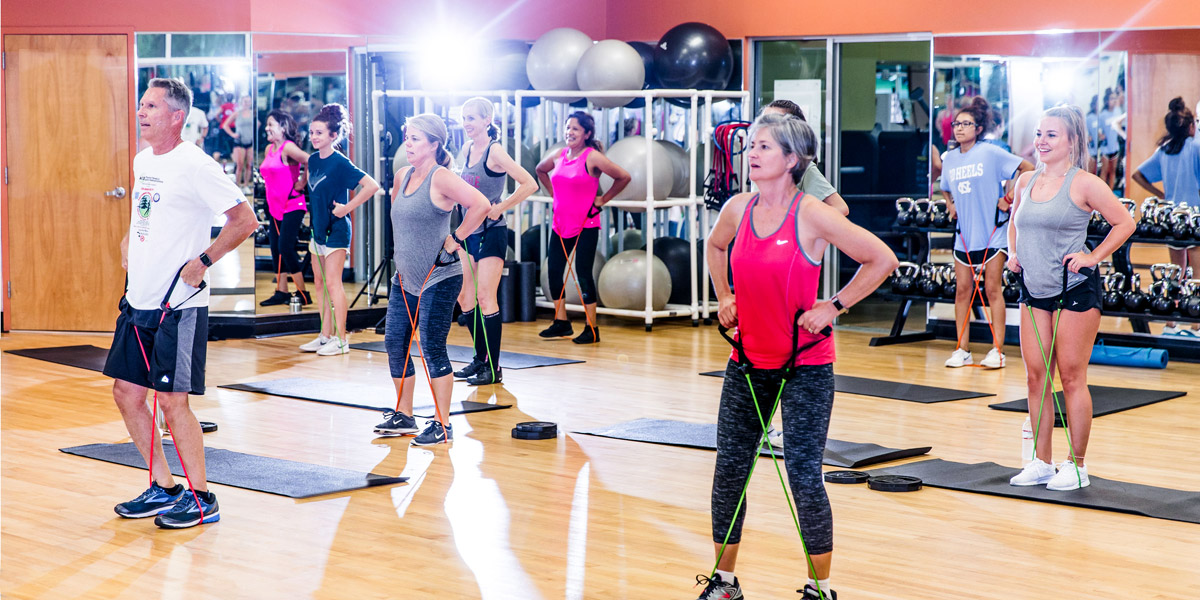 The Studio
Make it a Group Thing! At ClubWorx we customize workouts for each and every group fitness class and blend the music and energy to create an awesome fitness experience! Commit to joining us 2-3 times a week and you'll start to see the results. Over 150+ Classes Every Week!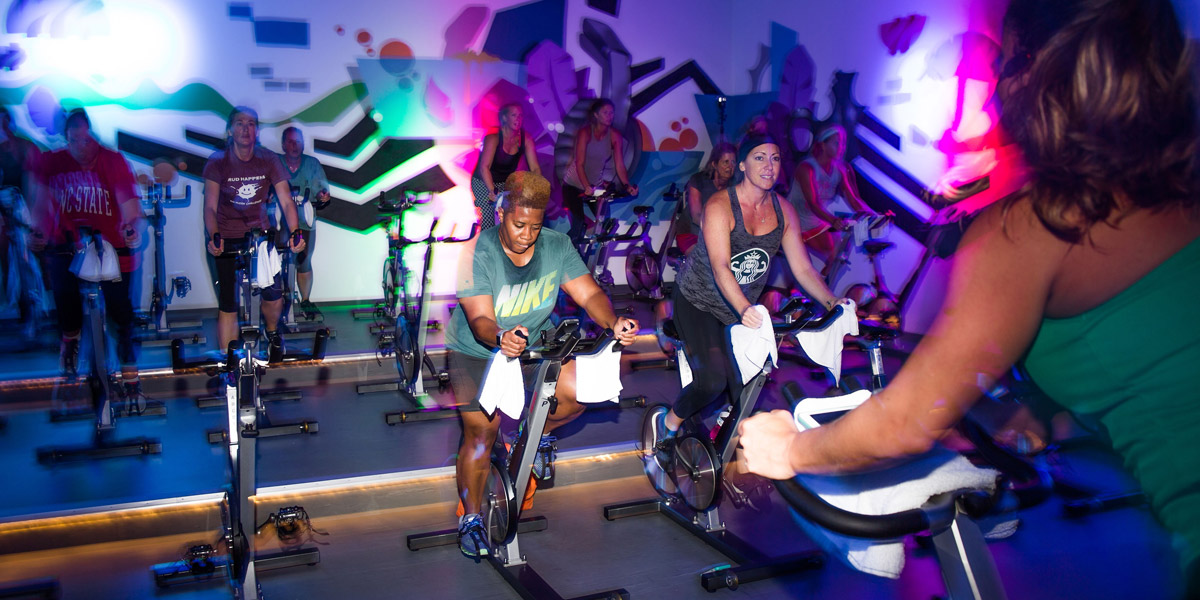 The Loft Studio
Experienced to first-time cyclists are challenged to increase endurance and burn calories! Join us for an amazing Virtual workout - exciting, cinematic-quality versions of live classes, led by the world's best instructors.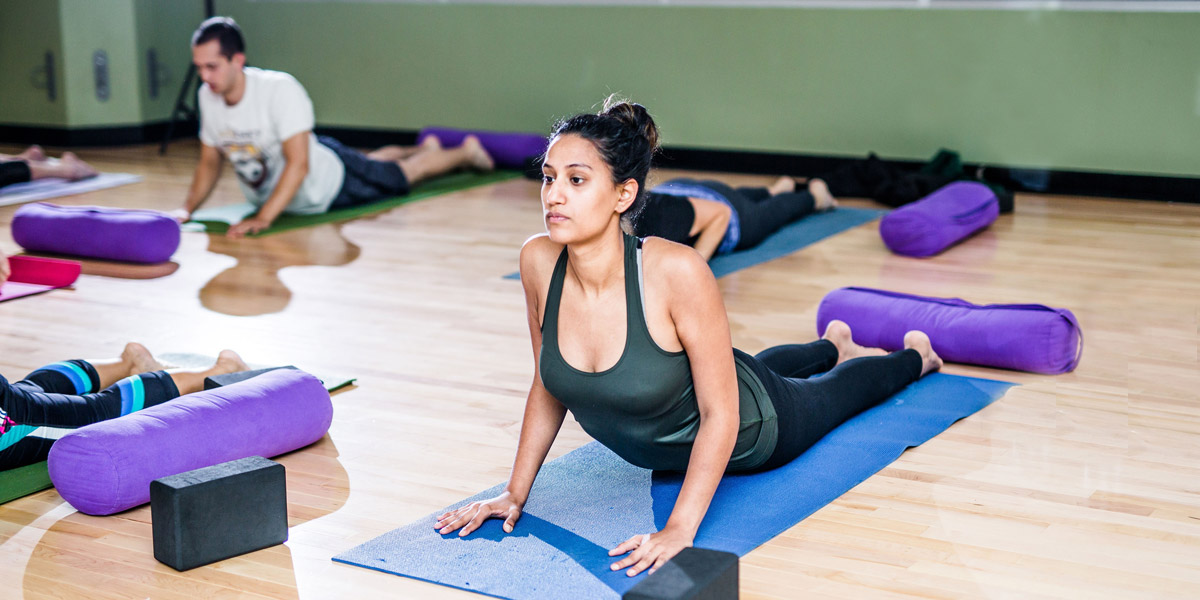 The Haven Studio
Stretch. Balance. Breathe. Wake your body, stretch your muscles and strengthen your core - from Les Mills Barre™ and BodyFlow™ to gentle yoga, detox yoga and oh so much more.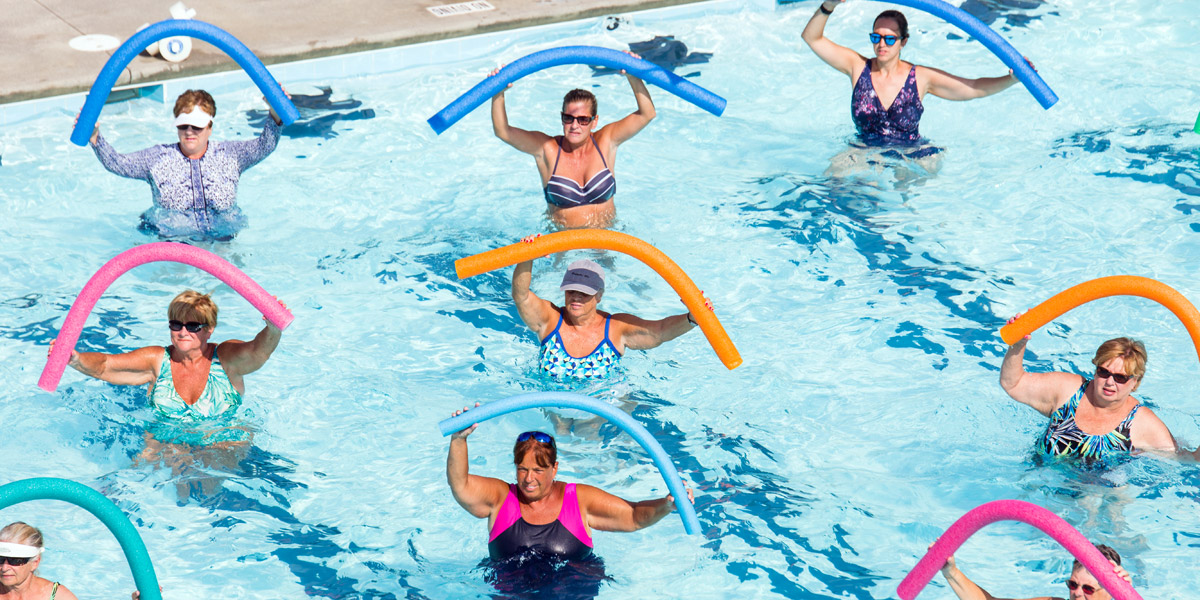 The Tide
Come experience Olympic-sized fun in our indoor and outdoor pool oasis! We offer aqua group classes, swim lessons, swim team and more to help you get your swim on!
#FitnessAndFun
Be part of the ClubWorx Community! Find support, energy, motivation and fun for every member of your family.