This week's macronutrient blog focused on protein. Many Americans get most of their protein from animal products, but it's important to include other types of proteins in your diet. Beans and legumes are great plant-based proteins that also provide fiber and nutrients. Lentils provide 18g of protein per cup, the highest in the bean and legume category! Lentils also provide you with 16g of dietary fiber per cup, that's about half of your daily recommendation! Lentils are high in potassium, iron, and vitamin B6 and low in fat, cholesterol, and sodium.
This soup is quick to come together, no sauteing needed, just throw everything in! It can be made on the stove, in the crock pot or in the instant pot, and it freezes well. This is one of my favorite soups, its warm, comforting and filling. I love eating this soup with crusty sourdough bread. This soup can be made vegan or vegetarian.
Easy Lentil soup
Ingredients
6 cups veggie broth (I use better than bullion)
2 cups dry brown lentils, rinsed and drained
1 medium red potato, scrubbed and diced
2 medium carrots, peeled and diced
2 large celery stalks, diced
2-3 cloves garlic, minced
1, 14.5 oz can petite diced tomatoes
3 bay leaves
½ teaspoon smoked paprika
½ teaspoon turmeric
Black pepper and sea salt, to taste
1-2 tablespoons butter (or vegan substitute for vegan recipe)
Directions:
Put everything together in your pot of choice, cook according to directions below
Remove bay leaves before serving
Cooking instructions:
Stove top: bring to a boil, reduce to a simmer. Cover and cook 30 minutes or until lentils are tender, but still hold their shape
Crock pot: cook on low for 6 hours
Instant pot: cook manual for 15 minutes. Natural release for 10 minutes before opening.
Freezing and reheating tips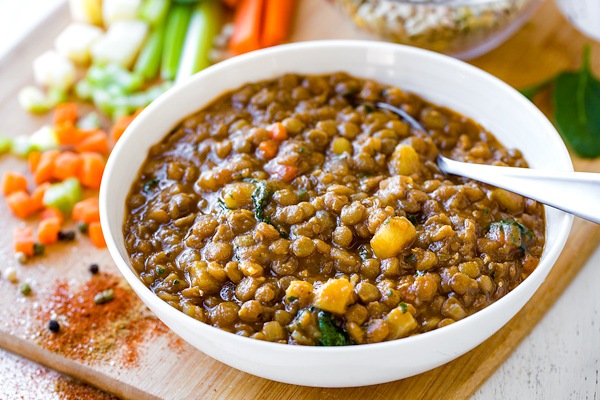 Let the soup cool before packing into containers
Use freezer and microwave safe containers
Leave some space at the top for expansion during freezing
Defrost 24 hours in the fridge, or in the microwave, before heating
Reheat on the stove or in the microwave
You may need to add additional veggie broth if the soup is too thick
Stay healthy!
Lisa Robinson-Mihiar, RDN, LD
ClubWorx Dietitian
Have a question you want Lisa to answer on the blog? Send your questions and ideas to Lisa at lrobinson (at) clubworx.net