Many things have changed in our world recently, but one thing remains the same – children and parents need summer camps more than ever! 
ClubWorx is offering 10 WEEKS of fun for kids ages 5-12, with a PIZZA PARTY every Friday!
Each day we offer a wellness activity plus recreational swim in our outdoor pool! Children school aged 5 to 12 years will experience a fun, rewarding, safe camp that promotes physical fitness under the supervision of friendly, experienced staff. With 10 weeks of new unique camp themes, your child will be sure to find one they love.
7:00am-8:00am Carpool in, early morning activity
8:00am-10:30am AM Core Activity
10:30am-11:15am AM Snack/Free Play
11:15am-11:45am Wellness Activity (M, W & F)
Pound/CrossFit Kids or Physical Fitness Activity (T & Th)
11:45am-12:30pm Lunch
12:30pm-1:00pm Activity Stations
1:30pm-3:00pm Quiet Time Activity
3:00pm-5:00pm Pool Time
5:00pm-6:00pm Activity Stations/Carpool out
We have added extra procedures in accordance with the CDC & NCHHS guidelines in order to help keep your children safe and healthy this summer.
We will communicate with participants and their parents prior to the start of camp about all of our new guidelines that may differ from last summer.
Masks must be worn by campers & staff in all indoor areas. Please pack extra masks for your children.
ClubWorx will administer health checks upon arrival. We will ask a couple of quesions as you drop off your child. If campers are showing any symptoms, we will administer a temperature check and call parents to decide if they they will be sent home. Symptoms include fever, cough or shortness of breath. All ClubWorx employees will take the same health checks daily.
Pick up will be done in the carpool loop and pick up will be on the side of the building by the double doors of the indoor pool. Parents and guardians may not come inside the building, so we will set up a texting system for drop off and pick up. Only one staff member per day will greet you at your car. Please do not get out.
Drop off and pick up times are 7-8 am and 5-6 pm. We cannot allow any alternate pick up times due to staffing ratios for new guidelines.
All campers will wash or sanitize their hands upon entering ClubWorx.
Campers will physical distance at all times and will be in age appropriate groups of 10 while indoors. Once outdoors we can increase the numbers of the groups.
Campers will sanitize their hands between activities and during all transitions. Sanitizing stations will be available around camp areas.
We will have a "bell" rotation much like in school to allow small groups of 10 campers to participate in activities so that we stay within the club specific capacities in those areas.
Once a group rotates out of a camp area, we will allow time for counselors to sanitize the area before the next group transitions. We are following NCHHS sanitation guidance and using EPA-registered disinfectant.
Please send spray sunscreen only. You may send a stick of sunscreen for your campers face, but know that counselors will not be able to help your child apply it. No lotion sunscreen allowed.
Water bottle labeled with their name.
If a camper needs medication, please bring enough for the week labeled with the camper's name. Please give the Camp Directors printed directions on the first day of camp.
Lunch and two snacks each day. We will provide pizza for lunch on Friday for all campers. If your camper has dietary restrictions please notify the Camp Directors on the first day of camp.
You may bring store bought snacks or treats to celebrate a child's birthday. No homemade items and please check for any allergies among the group.
Please bring a backpack or cinch sack with goggles, towel, sunscreen, water bottle, and life vest or puddle jumpers certified by the Coast Guard if needed. You may also bring an electronic device to use during our rest period. It will be kept with the camper at all times and only used during down time.
DO NOT bring toys, pool toys or food to share with others.
Questions? Contact Sabrina White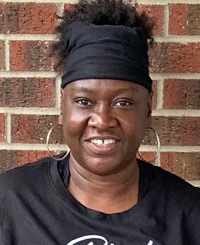 sabrina white
Summer Camp Director
Sabrina has worked in the educational field for over 21 years, teaching pre-K, three years as a pre-school director and two teaching kindergarten. In 2011 Sabrina created Develop 'U' Educational Services which serves several educational organizations, childcare centers and school age programs throughout the Triangle. She also works as a substitute teacher for Harnett County Schools and various childcare centers in Harnett and Wake County. Sabrina is a certified educational facilitator for various educational organizations such as UNC-TV (PBS Kids affiliation), teaching educators, children and parents a range of topics including Fit Together and conducting educational events across the state of NC, teaching Bio Colors Art and creative activities and physical fitness activities and games for Discount School Supply, nutrition and physical fitness for Be Active Kids. In addition to being an active member of ClubWorx since 2008, she started her journey teaching Skills and Drills in 2013 later becoming a certified fitness instructor

I wanted to take the time to thank everyone who worked at the ClubWorx Camp this summer. My son absolutely loved the camp. Everyday my son would ask me to drop him off early and to pick him up late. I even had time to run errands and workout after work. The best part of the camp was the variety of activities. He had time to swim, participate in arts/crafts, play with his friends in the children's center, and participate in different sports. He made so many friends there too because the staff promoted team building and activities that helped the kids get to know each other. My son formed many friendships which is so important! I never worried about my son while I was at work because I knew he was safe. All of the counselors knew my son, understood my son, respected my son, and made him feel special. As a teacher and a parent this is all very important to me. I will use the ClubWorx camp this summer and recommend the camp to my friends as well. Thank you. – Deborah Wuertz


My experience at Clubworx has been nothing but awesome and I have nothing but good things to say about the program and the staff. The program is well put together and keeps the children healthy and active all day and is designed to have frequent water breaks and snacks for the children. Each staff member there really seems to connect with each child individually and have a true relationship with them while they are at camp. My son cannot wait to attend camp each year, that's what he looks forward to most is his Clubworx Summer Camp. Keep up the good work Ms. Sabrina & Clubworx! ~Merideth