Who says that your protein+veggies dinner should be boring and tasteless? Forget that! Here's a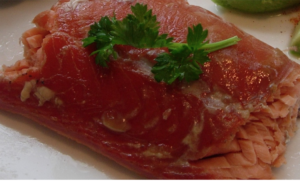 protein-packed dinner recipe that has amazing flavor!
Salmon is full of healthy omega-3 fatty acids and B vitamins, so this is a dinner that you can feel great about eating. Increase the nutrition content of the meal even more by serving it with a salad of vibrant greens and some avocado.
Courtesy of RealHealthyRecipes.com
What You Need
Serves 2
1 fillet of fresh Salmon
1 cup Lite Soy Sauce or coconut aminos
2 tablespoons fresh minced ginger
2 tablespoons honey
Instructions
Combine the Soy Sauce, Ginger and honey nectar. Place the Salmon in a pan and cover with the marinade for 1 hour in the fridge.
Prepare your grill. If desired, soak a cedar plank to barbecue the Salmon on.
Grill over medium heat until cooked through and flaky. Serve immediately and enjoy!
Nutrition
One serving equals 300 calories, 12g fat, 8g carbohydrate, .5g fiber, and 40g protein.
I hope that you get a chance to give this recipe a try this week. Remember that I'm only a call or email away to assist you in all things fitness. And if you are not yet one of my prized clients then call or email me now to set up your first workout – I'd love to help you achieve your best body ever!