This weekend many people get an extra day off, thanks to Labor Day on Monday. Labor Day was celebrated in 1892 in New York when 10,000 workers took unpaid leave to march from City Hall to Union Square for the first Labor Day Parade. Over the next 12 years, several sates passed bills to support Labor Day. I wasn't declared a federal holiday until 1894, after the death of a dozen workers in the Pullman Palace Car Riots. On June 28, 1894, President Grover Cleveland signed a law making the first Monday in September a national holiday. Now Labor Day is thought of as the last weekend of summer and you will often find families and friends gathering to share food and good company.
In celebration of the long weekend, here are a few fun recipes to try out and share as you gather 'round the BBQ. Most of them can be prepared ahead of time, which give you more time to relax and socialize!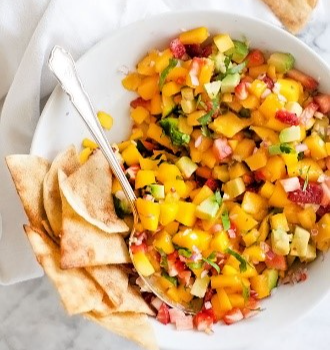 For starters, try out this fresh mango salsa. Made with fresh fruit, spice from jalapenos and some zesty lime juice, this salsa will kick off the party with a bang. The bright fruits will help you hang on to the last fun days of summer. Mangos and strawberries provide you with a healthy dose of vitamin C and avocados provide healthy fat! Pair with baked tortilla chips for some whole grain goodness.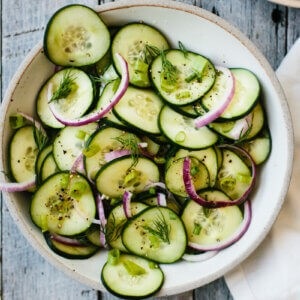 Want to provide a crips cool salad, but you're tired of the old standby- mixed green salad? Give this crips, cool cucumber salad a try! Make sure to use English cucumbers as they have a crisper flesh and a less bitter flavor than the standard cucumber. This salad comes together easily and can be stored for a couple days in the fridge.
If you are planning on cooking on the grill, try out these skewer recipes. Skewers are great for sharing because they are easy to pick up. You can prepare the meat ahead of time so it's quick and easy to throw it on the grill when it's time to eat. If you are using wood skewers, be sure to soak them for at least 30 minutes so they don't burn on the grill! Large casserole dishes work well for soaking.

These lemon garlic shrimp skewers are light and refreshing. Shrimp is low in calories and high in protein. It also contains several vitamins and minerals as well as heart healthy omega 3 and omega 6 fats.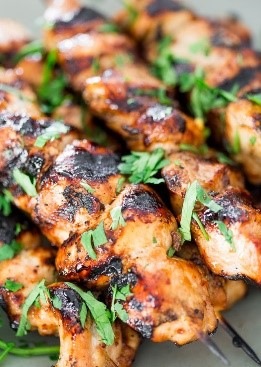 If you don't like shrimp, or want to go with a more classic skewer for your gathering, give these beer and honey BBQ chicken skewers a try! This one needs to marinate for a few hours, or up to overnight. The beer helps tenderize the meat. Chicken is also a low-fat, low-calorie, high protein food. This recipe uses chicken breasts, the leanest cut of chicken. Make sure to cook your chicken to proper temperature (165° F) to kill off harmful bacteria that can cause food poisoning.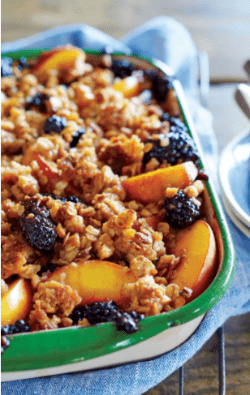 And we can't forget about dessert! Nothing says summer more than a delicious fruit crisp. This peach and blackberry crisp features late summer fruits. Tart blackberries balance out the sweet ripe peaches and the crisp topping is made with whole grain oatmeal. Pair with a scoop of creamy vanilla ice cream for a classic summer dessert to end your day. This dessert should be cooked close to serving time as the topping can get soggy. You can prepare the toping and fruit ahead of time to make preparation easier the day of.
I hope you all enjoy a fun and safe Labor Day weekend! If you try any of the recipes let us know how they turned out, we'd love to see pictures and hear stories.
Stay healthy!
Lisa Robinson-Mihiar, RDN, LD
Registered Dietitian Nutritionist
Clubworx