Happy Halloween! I hope you are having fun preparing for all the trick-or-treaters that are going to flood the streets tonight! My kids are excited to trick-or-treat in our new neighborhood filled with lots of kids. We have been teaching my two-year-old how to trick-or-treat. We practiced yesterday, and he is just excited to get candy, he hasn't quite gotten the "trick-or-treat" phrase down, he just says "please!" We haven't gotten him to agree to a costume yet, I think he might carry his favorite soccer ball and be a soccer player-it's the thought that counts right!? The older two kids are excited to get to go around with their new friends, and my 7-year old can hardly contain his excitement! We still have to carve pumpkins today, but never fear we will be ready by tonight!
Now, on to the pumpkin inspired recipe. Porches are decorated with Jack-O-Lanterns, your favorite coffee spot has pumpkin spiced lattes and doughnuts. 'Tis the season for pumpkin everything. These harvest muffins have the same pumpkin spice flavor many people love. This is a recipe that my mom made for my sister and I growing up, long before the pumpkin spice crave hit everywhere. The recipe I have at here at home has notes and marks from my mom, my sister and me. Tweaks here and there to make it our favorite! I hope you enjoy this comfy pumpkin recipe as you enjoy time with friends and family on this spooktacular day.
Happy Haunting!
Harvest Muffins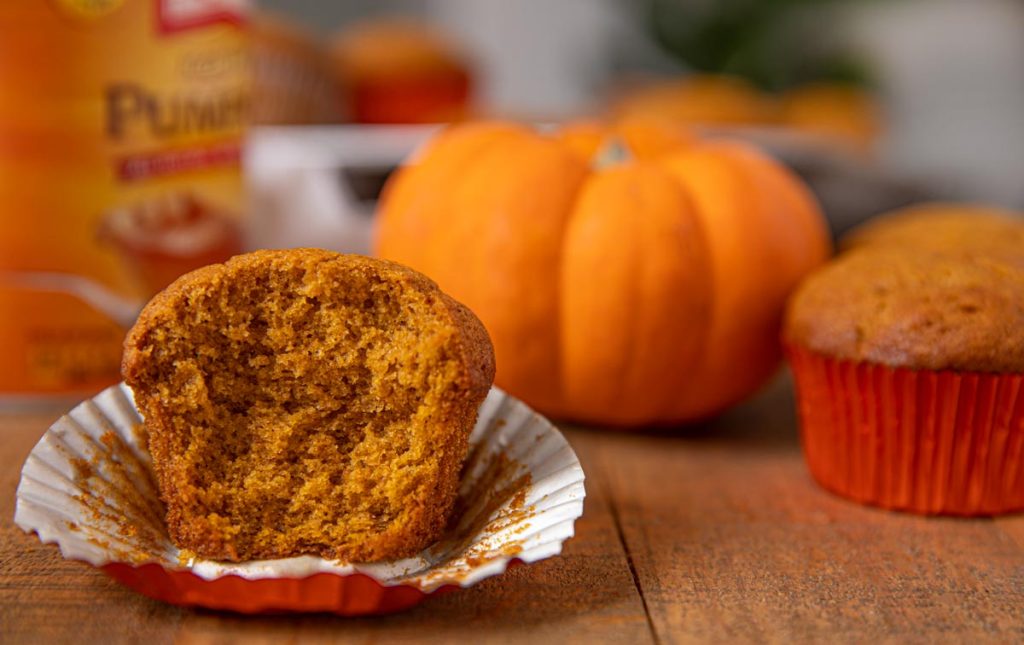 Make 12 muffins
Ingredients:
2 eggs beaten
1 cup sugar
1 cup canned pumpkin
⅓ cup canola oil
¼ water
1 ⅔ cup all-purpose flour
1 teaspoon baking soda
½ teaspoon salt
½ teaspoon baking powder
½ teaspoon cloves
½ teaspoon nutmeg
2 teaspoons cinnamon

Directions
Preheat oven to 350⁰ F
Prepare muffin pan by lightly coating with non-stick spray or putting in muffin cup liners.
Combine eggs, sugar, pumpkin, oil and water in a medium-sized mixing bowl.
Stir together flour, baking soda, salt, baking powder and spices in a separate bowl.
Add dry ingredients to wet and stir to blend. Do not over mix.
Place batter in to prepared muffin pan, filling cups ¾ of the way up
Bake 20 minutes or until toothpick inserted in the middle of the muffin comes out clean.
Let sit for 2 minutes, then remove from pan to a cooling rack.
Recipe notes
To make vegan, you can replace the 2 eggs with 2 flax "eggs". To make 2 flax eggs, mix 2 tablespoons of ground flax seed with 6 tablespoons water.
The original recipe had ½ cup chopped nuts, but we omit because we don't like nuts in our soft fluffy muffins.
You can sub whole wheat pastry flour 1 for 1 for the all-purpose flour if you wanted to make these muffins whole grain.
I have reduced the sugar down to ¾ of a cup and still like the taste if you are looking for something lower sugar.
You can use other kinds of mashed squash in place of the pumpkin if desired.
Nutrition, per muffin, recipe as written
Calories: 200
Carbohydrates: 32g
Protein: 3g
Fat: 7g
Stay healthy!
Lisa Robinson-Mihiar, RDN, LD
ClubWorx Dietitian

Have a question you want Lisa to answer on the blog? Send your questions and ideas to Lisa at lrobinson (at) clubworx.net