A tasty "chip" with lots of health benefits! Yes, it's true. And before you turn your nose up because the title contains the word kale…know that these chips are loved by almost everyone who tastes them, kids included!
I first started making kale chips when I was working at a kid's cooking camp. I was skeptical at first, thinking the there was no way the kids were going to eat this uber healthy vegetable. But to my surprise almost every kid liked them! Even the one who stated she didn't like any vegetables admitted that they were pretty good! Since then I have introduced them to my family, and my daughter, who is very selective in the foods she eats, loves these tasty treats. She asks me to get kale at the store so she can make them herself. They are simple to make and even the youngest of kids can help tear the leaves up and mix the oil in. The toughest part of making these chips is waiting for them to cook!
If I haven't already convinced you to give these kale chips a try, just wait until you hear all the health benefits you get from kale! Kale is often considered one of the most nutritious foods per calorie and is often labeled a "super food". Kale is high in fiber, vitamin K, and vitamin C.
Sea Salt and Garlic Kale Chips
The key to getting crunchy kale chips it to make sure they are dried well. If you have a salad spinner give it a spin in that before patting dry with a towel. If not, then lay the leaves in a towel, roll up and pat dry. Alternatively, wash ahead of time and lay out to dry for a while before starting. Then, make sure the leaves are spaced out and not overlapping on your baking tray.
Ingredients
1 medium-sized bunch of kale washed and dried very well
2 tsp olive oil
a pinch or two of salt
a pinch of garlic powder
Instructions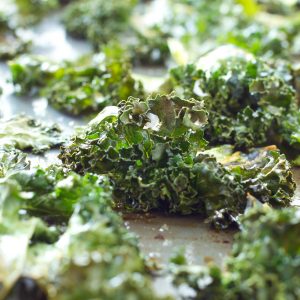 Preheat your oven to 300 degrees Fahrenheit.
Wash and dry one bunch of kale, making sure the leaves are completely dry. If there's any moisture left on the leaves you'll end up with soggy kale chips.
Rip the leaves off the stems and away from the chewy veins of the kale and into chip-sized pieces.
Arrange the pieces of kale on an unlined baking sheet.
Drizzle the olive oil as evenly over the kale as possible. Using your hands, gently massage the oil into the kale leaves, making sure to massage the oil well into all the folds and onto the entire surface of each of the kale leaves. At first it may not seem that 2 teaspoons of oil will be enough but adding more oil will only add too much moisture. If you find you need a tiny bit more oil, add it one drop at a time.
Once you've finished massaging the kale, sprinkle a pinch or two of sea salt and a pinch of garlic powder over the kale and add the pan to your preheated oven.
Bake for 10 minutes. Rotate the pan, flipping any pieces that are starting to look crispy and bake for another 10-15 minutes, watching the pan closely for the last 7-8 minutes to prevent over browning.
Remove the pan from the oven and leave the kale chips on the pan for 3-5 minutes before serving to they can crisp up even more!
Nutrition, per recipe
Serving: 1 serving
Calories: 25kcal | Carbohydrates: 1g | Protein: 1g | Fat: 2g | Saturated Fat: 1g | Sodium: 5mg | Potassium: 70mg | Vitamin A: 1424IU | Vitamin C: 17mg | Calcium: 21mg | Iron: 1mg
Stay healthy!
Lisa Robinson-Mihiar, RDN, LD
ClubWorx Dietitian
Have a question you want Lisa to answer on the blog? Send your questions and ideas to Lisa at lrobinson (at) clubworx.net