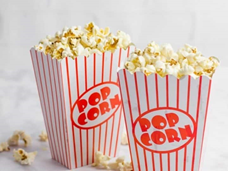 In our house the kids look forward to Friday night because after dinner we all gather 'round the TV to watch a family movie. It's a fun way for the family to come together and relax after a busy week. And no movie night is complete without POPCORN! We love to experiment with different popcorn flavors. Some nights everyone gets their own bowl of popcorn and adds their seasoning of choice. All my kids have different taste preferences, so they usually all pick out a different flavor to try. Letting kids pick out their own seasoning is a great way to encourage them to try new things and experiment with different flavors.
I feel great about eating popcorn and serving my kids popcorn because it has some great health benefits! First off, it's a whole grain, which means it contains fiber. Both whole grains and fiber have been shown to help reduce the risk of developing, heart disease, type 2 diabetes, and high blood pressure. Fiber also helps keep our gut healthy and helps keep us fuller longer, which can help prevent mindless snacking later. Popcorn also contains many vitamins like A, E, K and many of the B vitamins as well as minerals like iron, zinc and magnesium. In addition, popcorn contains antioxidants, which help the body heal from natural free radical production which helps reduce inflammation and prevent cancer. Wow, popcorn packs a nutritional punch!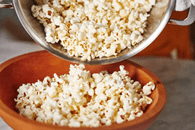 Plain, air popped popcorn, is a low-calorie, healthy food. One serving of air popped popcorn, which is about 3 cups popped, contains 95 calories, 4g of fiber, 3g of protein, 1g of fat, and 19g of carbohydrates. However, popcorn can go from a great healthy snack, to a high fat, high sugar snack quick! Things like movie theater butter popcorn, cheese popcorn and caramel corn all have a lot of added fat and/or sugar, which puts them in the category of "sometimes treats". When you want a healthy everyday snack, making your own popcorn seasoning is the way to go! My kids sometimes even like to make their own popcorn as after school snack. Having these seasonings on hand is an easy way for them to change things up. Below are a few of our favorites, but a quick internet search will give you many more options to try! All of them are quick to whip up and extras can be saved for your next movie night or popcorn craving.
As a final note, there are several ways to pop popcorn kernels at home. We usually use an air popper because it's easy, hands off, and safe for the kids to do on their own. However, there are many methods you can try if you don't have an air popper. Check out this page for some of the different options.
As always, if you try anything out, let us know how it went and what you thought! Have a different favorite popcorn recipe? We'd love to know what it is!
How to use popcorn seasoning
All of these seasonings can be used on either plain popped popcorn or microwave popcorn.
If the recipe includes salt, and you are using pre-salted/pre-buttered popcorn, leave the salt out of the recipe.
If you're popping popcorn from scratch, you'll need to spray or drizzle it with butter or oil after popping so the seasonings have something to stick to. I like to use a little bit of melted butter evenly drizzled over for flavor, then I lightly spray with canola oil cooking spray.
Use a large bowl or bag to mix or shake the seasoning onto the popcorn.
Nacho Cheese "Dorito" Popcorn Seasoning
This one is my personal favorite! I love the taste of nutritional yeast, which gives this seasoning a cheesy flavor. Nutritional yeast is often used as a dairy free alternative to cheese flavoring. It also contains many vitamins, minerals and antioxidants giving your popcorn even more nutritional power! Nutritional yeast can often be found in either the health foods section of a grocery store, or sometimes in the baking isle. Nutritional yeast is different that active dry yeast that is used for making raised breads.
Ingredients
2 tablespoons nutritional yeast
¼ teaspoon garlic powder
¼ teaspoon onion powder
¼ teaspoon cumin
¼ teaspoon paprika
¼ teaspoon chili powder
½ teaspoon salt
Directions
Mix ingredients together in a bowl
Store in an airtight container in the cupboard
Sprinkle over lightly buttered or oiled popcorn, mix to season evenly
Cinnamon Sugar Popcorn Seasoning
Just like cinnamon sugar toast! Salt in this recipe may seem counter intuitive, but salt actually helps make it taste sweeter with less sugar! If you are planning on using this right away, try using brown sugar, it gives it an elevated flavor. However, if you plan on storing it, use the white sugar to prevent clumping.
Ingredients
8 Tablespoons white or brown sugar
4 teaspoons ground cinnamon
1 1/2 teaspoons salt
Directions
Mix ingredients together in a bowl
Store in an airtight container in the cupboard
Sprinkle over lightly buttered or oiled popcorn, mix to season evenly
Parmesan, Garlic and Herb Popcorn Seasoning
This blend is packed with Parmesan cheese, garlic powder, and Italian herbs. I like to add crushed red pepper for heat (and a flavor reminiscent of pizza), but feel free to omit it if you prefer. This blend also happens to be amazing on pastas and pizza, so it's a nice versatile spice combo to have around! Since this one contains cheese, it needs to be stored in the fridge for freshness.
Ingredients
4 Tablespoons grated Parmesan cheese
1 teaspoon garlic powder
2 teaspoons dried Italian herbs
1/2 teaspoon red pepper flakes (optional)
1/2 teaspoon salt
Directions
Mix ingredients together in a bowl
Store in an airtight container in the fridge
Sprinkle over lightly buttered or oiled popcorn, mix to season evenly
Stay healthy,

Lisa Robinson-Mihiar, RDN, LD
Registered Dietitian Nutritionist
Clubworx