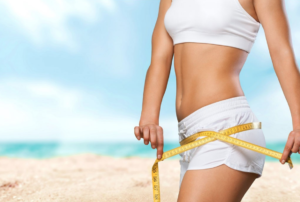 Ready for summer? Warmer weather, shorts, tank tops and bathing suits are just around the corner.
Are you ready for it? What if you spent the next 30 days dropping excess pounds and getting into better shape before hitting the beach?
Then you could ride out the summer months fitter than ever and more likely to eat healthier, indulge less and stick with your workout schedule.
Sound good?
We've got just the no-fail fat loss plan to get you there. Follow these 5 steps to transform your body over the next 30 days…
1) Go Gluten Free: Going gluten free for 30 days is such a simple way to accelerate fat loss. Just think of all the extra carbs and calories that you'll be saving yourself from. And it's not so bad, once you get used to it. Wrap sandwiches and burgers in lettuce or on top of a pile of greens.
2) Exercise 5x's Each Week: Take the next 30 days to really focus your efforts in the gym. Train as if you were preparing yourself for an athletic event, with the mindset that each and every workout is important in seeing you through your goal. Make a log of each time that you exercise, noting the duration, intensity and activity.
3) Go Sugar Free: Sugar is the biggest thing holding you back when it comes to dropping fat and getting lean. And not just refined sugar. We're talking about all sugars. Take the next 30 days to cut out all sweeteners and limit your intake of sweet fruits. This will be hard at first, especially if you have a sweet tooth, but the rapid change in your body is fantastic incentive to keep going.
4) Enjoy Protein and Veggies: Enough about all the things you can't eat, let's talk about what you can eat. Your meals should be a variety of protein and veggies. For protein stick with organic, hormone-free meat that has been roasted, baked or grilled. For veggies, avoid starchy veggies like potatoes, and instead stick with an assortment of colorful, fiber-filled veggies.
5) Join A ClubWorx Small Group Training Program: The quickest way to get your body into tip-top shape is to join one of our fitness programs. Our nationally certified trainers are here to help you get into the best shape of your life, with proven and effective systems. Make the commitment now, and together we can make the body of your dreams a reality.
So there you have it, 5 simple steps to transforming your body before summer vacation!
Remember, the next 30 days are going to pass whether you jump on board with a fitness plan or not. Buckle down and finally make your amazing transformation a reality!
The choice is yours.
---
Your Fit Lifestyle
When you decide to focus on body transformation for 30 days, something amazing is going to happen. You're going to learn how to live lean, and as you watch the fat melt away you're going to want to stick with it. Past 30 days. Past 60 days.
Once you get into the groove of health and fat loss, the momentum will carry on.
And as a result, you'll live out your days in amazing shape, loving life.
Hey, don't say we didn't warn you! 🙂
———————————–
Wine Poached Chicken Salad
Here's a delicious new take on chicken salad. The chicken is poached in white wine to be tender and flavorful. Find fresh greens and an assortment of colorful veggies to add to your salad, don't limit yourself to the ingredients listed below.
Something magical happens when you poach chicken in wine and then serve it over a bed of vibrant produce…try it and see!
Courtesy of RealHealthyRecipes.com
What you need
Serves 6
For the Wine-Poached Chicken
2 quarts low sodium chicken broth
4 cups white wine
2 yellow onions, halved
4 cloves Garlic, smashed
3 sprigs fresh thyme
3 boneless, skinless chicken breasts
For the Pomegranate Mixed Greens Salad
6 cups Mixed Greens
½ cup pomegranate seeds (arils)
3 tablespoons roasted, salted pepitas
½ cup jicama, peeled and chopped
2 avocados, pitted, peeled and chopped
Classic Balsamic Dressing
Instructions
1. Place the broth, wine, onions, garlic and thyme in a large pot over medium heat. Bring the mixture to a boil, then gently add the chicken breasts one at a time. The chicken should be fully covered by the liquid, add more broth if needed. Return to a boil.
2. Once the liquid boils, turn off the heat and cover the pot. Allow the chicken to poach for 30 minutes, then use a slotted spoon to remove the chicken and onions from the liquid. Once cool enough to handle, shred the chicken and slice the onions. Combine the chicken and onion in a bowl and generously season with freshly cracked sea salt and black pepper.
3. On each salad plate arrange a bed of mixed greens and top with pomegranate seeds, pepitas, jicama, avocado and a scoop of the chicken. Drizzle with Classic Balsamic Dressing and serve immediately. The chicken will keep up to 3 days in the fridge. Enjoy!
Nutrition
One serving equals 394 calories, 18g fat, 143mg sodium, 12g carbohydrate, 5g fiber, 4g sugar, and 44g protein
Motivate your friends, family, and co-workers! Use the "refer a friend" link below to forward this newsletter to your friends, family, and coworkers.
Not a member yet? Check out our latest membership specials here.